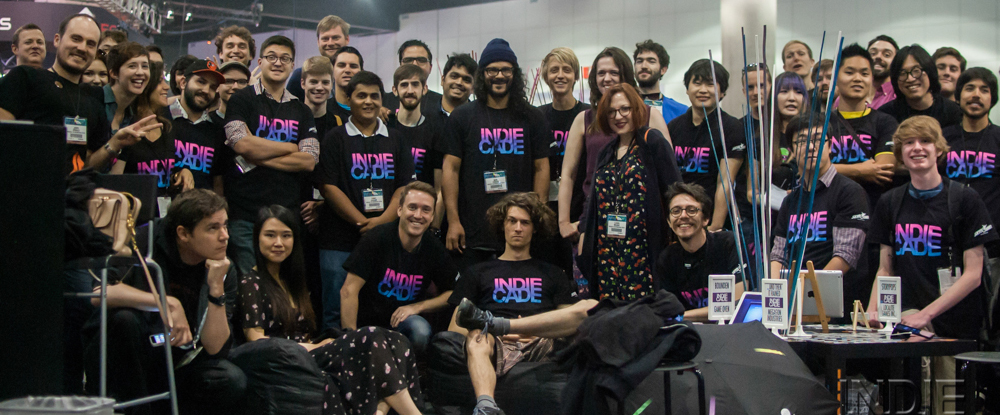 OUR FOCUS
IndieCade supports the development of independent games and organizes a series of international events to promote the future of indie games. It encourages, advertises and cultivates interactive media and their talent for innovation and art, in order to create a perspective as rich, varied and artful as possible for the public. IndieCade events, their productions and publications' foremost focus is to facilitate new creations of independent games.
Just as the community of independent game developers itself, Indiecade is global, with creators from Asia, Latin America, Europe, Australia... from every place in the world where indie games are created and played. IndieCade was founded par Creative Media Collaborative, an alliance of industry producers and leaders since 2005.
SAFE SPACE POLICY
IndieCade Europe is dedicated to providing a safe environment for people of all race, gender, gender identity and expression, sexual orientation, disability, physical appearance, age or religion or game.
We do not tolerate harassment of participants in any form. If a participant engages in harassing behaviour of any kind, the organisers may take any action they deem appropriate, including warning the offender or direct expulsion from the party without a refund at the discretion of the festival organizers.
Harassment includes, but is not limited to:
Verbal comments that reinforce social structures of domination related to gender, gender identity and expression, sexual orientation, disability, physical appearance, body size, race, age or religion;
Deliberate intimidation, stalking or following;
Harassing photography or recording;
Sustained disruption of talks or other events;
Inappropriate physical contact;
Unwelcome sexual attention;
Advocating for, or encouraging, any of the above behaviours;
If someone makes you or anyone else feel unsafe or unwelcome, please report it as soon as possible. Festival staff can be identified by purple T-Shirts. Harassment and other code of conduct violations reduce the value of our event for everyone. We want you to be happy and feel safe at our event. People like you make our event a better place.
(Based on the example policy from theGeek Feminism wiki, created by the Ada Initiative and other volunteers. The policy is licensed under the Creative Commons Zero licence.)
About IndieCade
Indiecade is produced by a growing team of devoted people, everyone of which is convinced that we can have an impact on the industry and eventually on the way we play, understand and are influenced by games. To this end, IndieCade supports the development of indie games as well as a series of global events promoting the future of gaming.
IndieCade Festival will take place from October 10th to 12th 2018 in Santa Monica, CA.
Volunteering
Members from the community work together to support IndieCade for the simple reason that we love all games. We want them to be known for everything they bring to the world, their innovations and their art. We all work towards an important goal: to make sure the public knows how rich, varied, artful and culturally meaningful games are. We believe this can make the industry, and maybe the world, go forward
An open and united community...
As long as you get interested in games that challenge your skills and beliefs, in games you find fun and entertaining, you are more than welcome to join the IndieCade community.
... supported by sponsors
Even with the help of volunteers, producing such an event requires hundreds of thousands of euros. IndieCade is 100% independent. This means we do not belong to any company or corporation, and that we need to find adequate sponsors so that the event can go on. When we partner with a sponsor, we work hard to make sure we stay true to our ideas to keep bringing out games of great quality and significance.
Learn more on IndieCade.com
About Capital Games
IndieCade is coming to Europe with the support of our host, in charge of IndieCade Europe, Capital Games. Capital Games manages a network of more than 85 publishing and development companies in the Paris region. Capital Games has the support of the Île-de-France region, the Paris city hall, the French Government (DIRECCTE) and the European Union (ERDF).
Learn more on the Capital Games website.